Lorenzi Night in Bolzano
An event that no wine lover should miss. Visitors have the opportunity to taste not only the local wines, Lagrein and St. Magdalener, but also gastronomic specialities in the middle of the picturesque old town.
10 August 2020, 6pm - 00pm
Sunrise on Rittner Horn mountaintop
Experience an unforgettable sunrise with breakfast at Rittner Horn. An ascent and descent with the Rittner Horn mountain railway, a fantastic panorama and a generous breakfast buffet await you at the Schwarzseespitze Inn.
16 August 2020
6 September 2020
Start 06:10am in Pemmern
Reservation necessary
Bolzano Christmas Market
During the Advent season Bolzano with its traditional market is very festive and vivid.
26 November 2020 - 06 January 2021
Patronal festivity at Oberbozen
Every year on August 15, the music band of Oberbozen organizes this traditional and widely known fair.
Parade at 2 pm in Oberbozen's town center.
Oberbozen's traditional marching band concert
11 August 2020, 9pm
13 September 2020, 10:30am
in the music pavilion Oberbozen
free entrance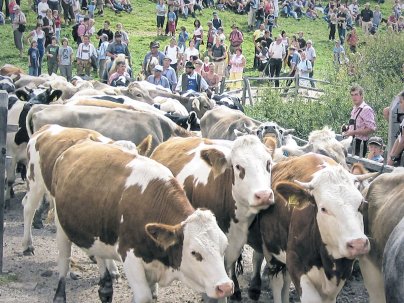 St. Bartholomew's day
The St. Bartholomew's Day on Corno del Renon is a popular festivity with a long tradition. It is the day when shepherds start to bring the cattle down from the mountain pastures. The festivity on Corno del Renon starts with music by the local musicians of Vanga at 10 a.m. on the meadow close to the middle-station of Corno del Renon's gondola.
Christmas Market Ritten 2020
At the little Christmas Market, "Christbahnl", in Oberbozen at the station and in the centre of Klobenstein you will find lovingly decorated stalls, traditional and high quality handicraft products as well as local specialities.
27 November - 30 December 2020
Fridays 3pm - 6.30pm
weekends 10am - 6.30pm