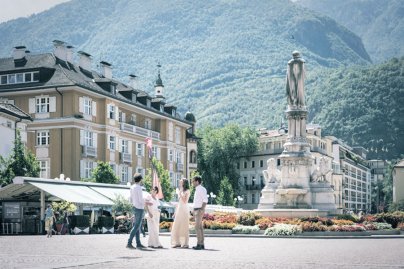 Spring in the City
Spring market on Waltherplatz in Bolzano with South Tyrolean delicacies, local products from craftsmen and artists, plus music and entertainment for the whole family.
09 - 13 April 2020, 10am - 6pm
free entrance
Days of Architecture 2020: A walk through Klobenstein
Walk through the main town of the municipality of Ritten. Insights into different epochs, places and stories with Messner Architects.
15 May 2020, 1.30pm - 6pm
Reservation required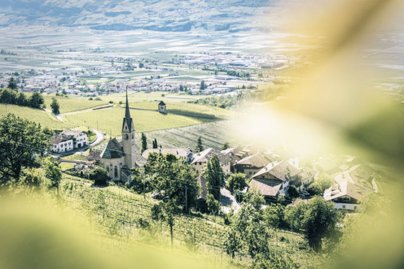 Pinot Noir Days 2020
The South Tyrolean Pinot Noir Days take place in the wine villages of Neumarkt and Montan. The winners, as well as all the participating wineries and a selection of international Pinot Noir wines can be tasted at the public tasting in Neumarkt. An extensive program with guided tastings and wine seminars will be offered in Montan and Neumarkt.
16 - 18 May 2020
Asfaltart 2020 at Merano
Enter the colourful world of street art! Experience magical moments with top artists and musicians from all over the world. The city centre of Merano becomes a show stage for clowns, artists, acrobats, musicians and fire artists.
12 - 14 June 2020
Lorenzi Night in Bolzano
An event that no wine lover should miss. Visitors have the opportunity to taste not only the local wines, Lagrein and St. Magdalener, but also gastronomic specialities in the middle of the picturesque old town.
10 August 2020, 6pm - 00pm
Sunrise on Rittner Horn mountaintop
Experience an unforgettable sunrise with breakfast at Rittner Horn. An ascent and descent with the Rittner Horn mountain railway, a fantastic panorama and a generous breakfast buffet await you at the Schwarzseespitze Inn.
19 July 2020
16 August 2020
6 September 2020
Start 06:10am in Pemmern
Reservation necessary
Bolzano Christmas Market
During the Advent season Bolzano with its traditional market is very festive and vivid.
26 November 2020 - 06 January 2021
Myth Catinaccio-Rosengarten
Iconographic exhibition at the Civic Museum Bolzano
06 February - 26 April 2020
Tue - Sat, 10am - 6pm
Free entrance
Beercraft - International Craft Beer Meeting
Right in the heart of Bolzano, at Maretsch Castle, beer culture presents itself in a new light with numerous exhibitors and beer varieties from Italy and abroad.
15 - 16 May 2020, 4pm - 11.30pm
entrance fee
Gourmet Festival Bolzano
A true pleasure experience awaits visitors at Kornplatz and in the Silbergasse Alley. At various stations, the best gastronomic products from different regions of Italy are offered for tasting.
21 - 24 May 2020, 10am - 6pm
free entrance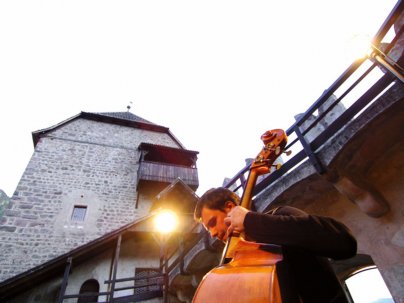 South Tyrol Jazz Festival 2020
The 38th edition of the largest international Jazz Festival in South Tyrol takes place in some of the most interesting locations of the local jazz scene.
26 June - 5 July 2020
Patronal festivity at Oberbozen
Every year on August 15, the music band of Oberbozen organizes this traditional and widely known fair.
Parade at 2 pm in Oberbozen's town center.
Oberbozen's traditional marching band concert
9 June 2020, 8:30pm
11 August 2020, 9pm
13 September 2020, 10:30am
in the music pavilion Oberbozen
free entrance
Night at the Museion
Every Thursday, the Museion, the museum for contemporary art in Bolzano, remains open until 10pm. At 7pm there is a guided tour with the museum's art educators.
Every Thursday, 6pm - 10pm
Free admission and guided tour
Flower market Bolzano
Waltherplatz in Bolzano is transformed into a kind of botanical garden, with fragrant flowers and numerous plants in all their diversity at the centre of attention.
30 April - 01 May 2020
free entrance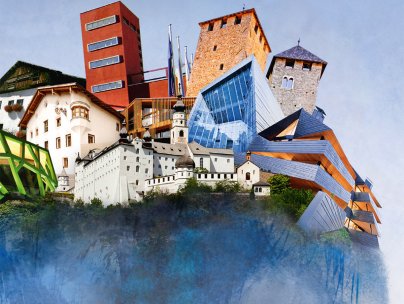 Days of Architecture 2020
With the annual theme of "The Magic of Diversity", the Days of Architecture once again offer guided tours on foot, on bicycle, by car and bus, with architects, also here on the Ritten mountain.
15th - 17th May 2020
Reservation required
Castelronda: Experience the Middle Ages
Numerous events are held at various castles - immerse yourself in a special atmosphere with spectacles, medieval costumes, noblewomen and knights on horseback.
30 May - 02 June 2020, 10am - 6pm
Program tba
Bolzano Danza 2020
The festival "Bolzano Danza" can inspire dancers and companies as well as the audience with its extensive course program and demanding performances.
10 - 25 July 2020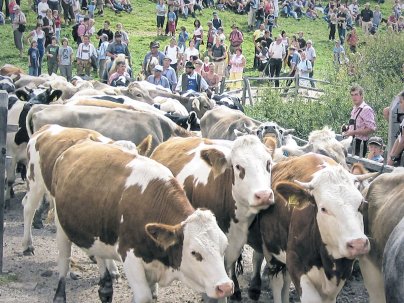 St. Bartholomew's day
The St. Bartholomew's Day on Corno del Renon is a popular festivity with a long tradition. It is the day when shepherds start to bring the cattle down from the mountain pastures. The festivity on Corno del Renon starts with music by the local musicians of Vanga at 10 a.m. on the meadow close to the middle-station of Corno del Renon's gondola.
Christmas Market Ritten 2020
At the little Christmas Market, "Christbahnl", in Oberbozen at the station and in the centre of Klobenstein you will find lovingly decorated stalls, traditional and high quality handicraft products as well as local specialities.
27 November - 30 December 2020
Fridays 3pm - 6.30pm
weekends 10am - 6.30pm